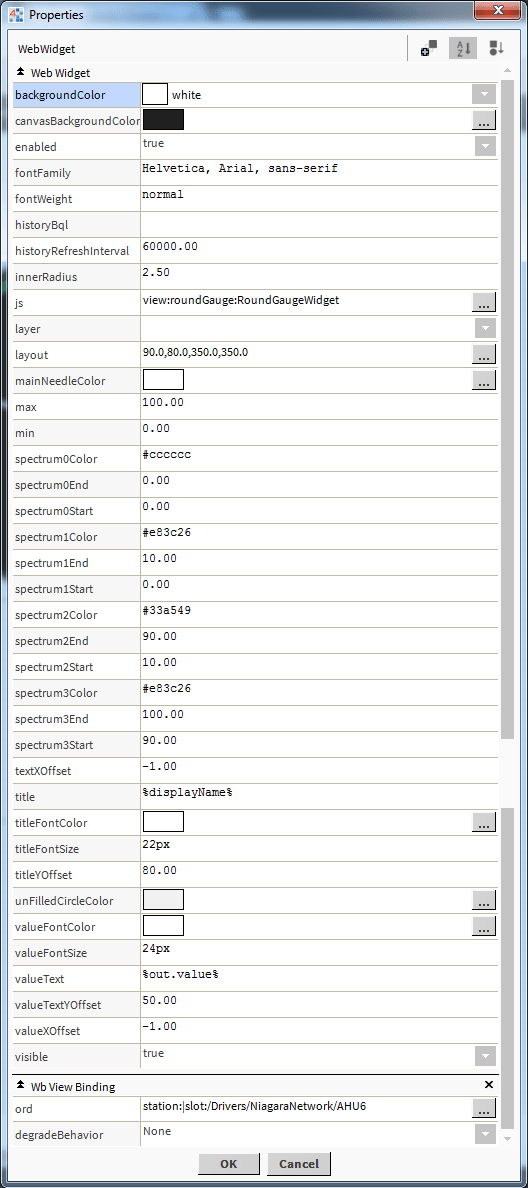 Properties
---
The gauge has a number of configurable properties that can be used to modify look, feel, and functionality. Change the properties as required.
Main Chart Binding
Set this to an absolute ord, e.g.
station:|slot:/Drivers/NiagaraNetwork/AHU5 or relativized ORD e.g.
slot:AHU5
The ord should point to a numeric point/writable that has a numeric interval extension.
Background Property:
The background (the area within the circular part of the widget) can be changed to a solid color, gradient, image, or null(transparent).
Canvas Background Property:
The canvas background (the area behind the widget) does not go transparent, but can be changed to a color of your choice.
Spectrum Colors:
The gauge allows you to set 4 spectrums. First set the min/max of the widget. For example, if you set the min to 0, and max to 100, you can set the spectrum values to something like:
Spectrum 0 Start = 0
Strectrum 0 End = 0
Spectrum 1 Start = 0
Strectrum 1 End = 40
Spectrum 2 Start = 40
Strectrum 2 End = 60
Spectrum 3 Start = 60
Strectrum 3 End = 100

Of course you can set all values to the same color to keep it one color as well.
History Binding:
You can bind the gauge to a history reference. Change the properties as required:
1. Set the value binding as normal.
The value binding must be set in order to gather history records for the point.
2. Set the history BQL property.
Examples:
|bql:history:HistoryRollup.rollup(history:RollupInterval 'monthly')|bql:select max
|bql:history:HistoryRollup.rollup(history:RollupInterval 'monthly')|bql:select min
|bql:history:HistoryRollup.rollup(history:RollupInterval 'monthly')|bql:select avg
|bql:history:HistoryRollup.rollup(history:RollupInterval 'monthly')|bql:select sum