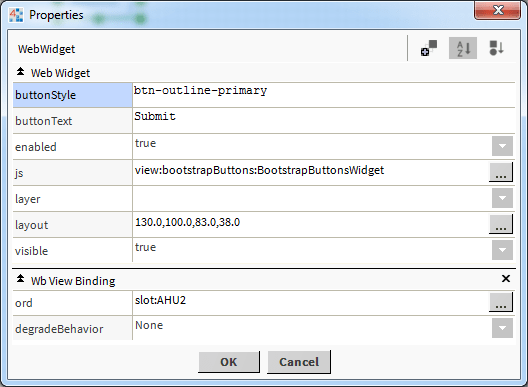 Properties
---
The widget has a number of configurable properties that can be used to modify look, feel, and functionality. Change the properties as required:
Main Ord:
The Niagara object the button points to.
Set this to an absolute ord, e.g.
station:|slot:/Drivers/NiagaraNetwork/AHU5
OR
relativized ORD e.g. slot:AHU5

Button Text:
The button text to show on the button.
Button Style:
Bootstrap V4 - the following values are acceptable: btn-primary, btn-secondary, btn-success, btn-info, btn-warning, btn-danger, btn-link, btn-outline-primary, btn-outline-secondary, btn-outline-success, btn-outline-info, btn-outline-warning, btn-outline-danger.
Button Width:
Add a non-breaking space to either side by using
Button Examples:


Note: the buttons have a transparent canvas background in browser mode.
Also check out the font awesome buttons.