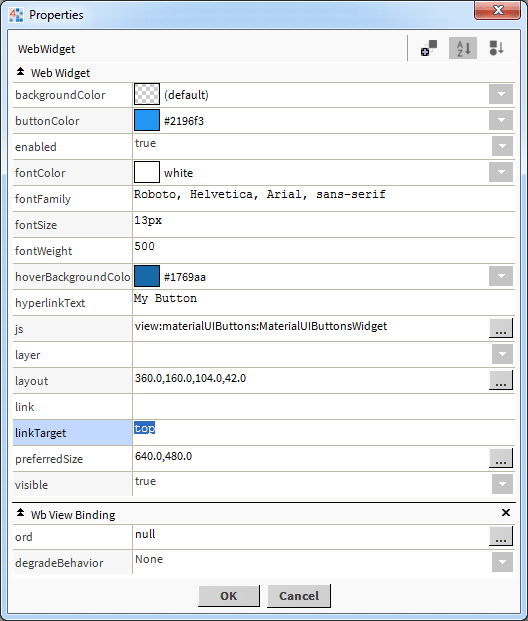 Properties
---
The buttons have a number of configurable properties that can be used to modify look, feel, and functionality. Change the properties as required.
Main Ord:
The Niagara object the button points to.
Set this to an absolute ord, e.g.
station:|slot:/Drivers/
NiagaraNetwork/AHU5 or relativized ORD e.g.
slot:AHU5
OR
Be sure to set the link property above to an absolute ord e.g. station:|slot:/Drivers/Graphics/AHUs
and the linkTarget to ord
hyperlinkText:
This is the text to show for the. Clear this value if you bound the widget to an ord like the step above.
If an ord binding is set and this value is populated, the hyperlinkText value will be shown.
link:
This is the link you want the hyperlink widget to navigate to. Examples:

External Link: https://www.google.com/
Dashboard Template Link:
/ord/file:%5Etemplates/
floorplanZoningView/
Niagara44_46_47/
index.html%7Cview:web:
FileDownloadView#/
energyConsumptionView/
station:|slot:/Drivers/
Graphics/AHUs/AHU1?displayName=AHU1

NOTE: if you want to use the Ord binding link see below.
linkTarget:
Link Target is the location of the Window (e.g. new window/tab). Possible Values:

ord - if set to ord, the link will navigate you to the widget ord binding
top - URL replaces any framesets that may be loaded. This is the default. Works best when linking to a dashboard link.
blank - URL is loaded into a new window.
parent - URL is loaded into the parent frame
self - URL replaces the current page NOTE: this one is not used, but can be set if needed.