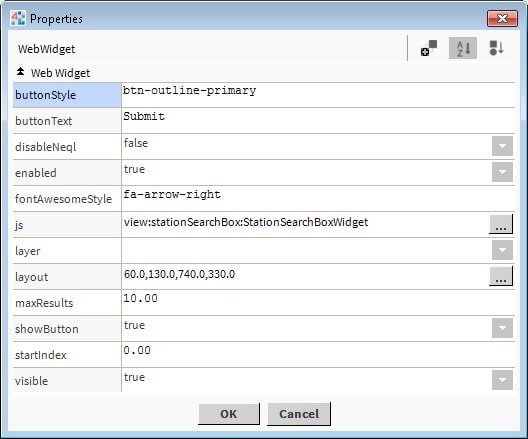 Properties
---
The widget has a few configurable properties that can be used to modify look, feel, and functionality. Change the properties as required:
Search Input:
When neql property is disabled searches should be a single item or multiple items separated by comma.
Single Item: AHU1
Multiple Items: AHU1, AHU2, AHU3
Advanced Search: lt:site And (lt:kaldenavn = $VALUE Or lt:vej = $VALUE Or lt:postnr = $VALUE Or lt:butik = $VALUE Or lt:sitenr = $VALUE)
Button Style:
Bootstrap V4 - the following values are acceptable: btn-primary, btn-secondary, btn-success, btn-info, btn-warning, btn-danger, btn-link, btn-outline-primary, btn-outline-secondary, btn-outline-success, btn-outline-info, btn-outline-warning, btn-outline-danger.
Button Text:
The button text to show on the button.

Disable NEQL:
Disables NEQL syntax searches.
When disabled, search is performed by name/tag only.
Font Awesome Button Icon:
Specify an icon on the button.
Max Results:
Limits the maximum number of results.
Show Button:
Show/Hide search button.