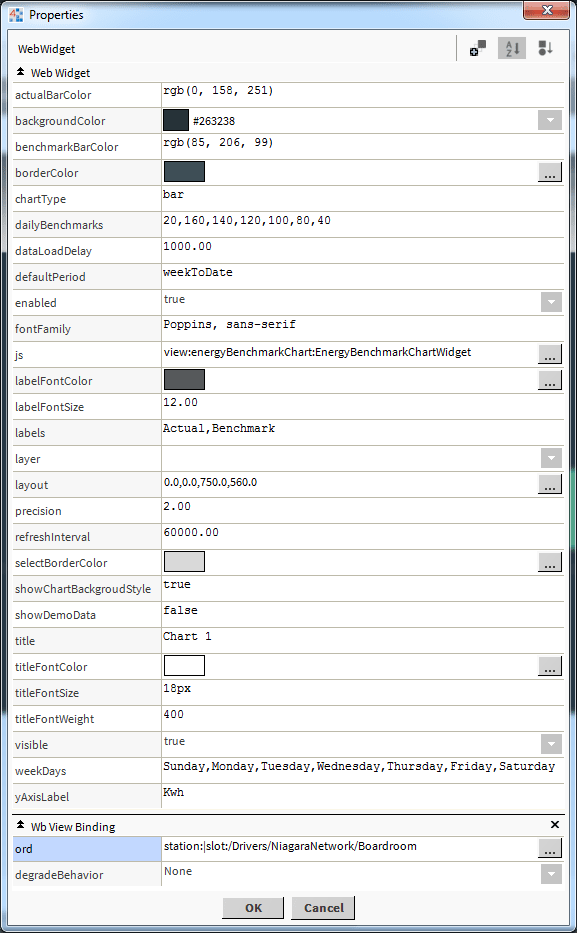 Properties
---
The widget has a number of configurable properties that can be used to modify look, feel, and functionality.
Changing Widget Properties - most properties are self-explanatory but some require some explaining.
Ords:
Main Chart Binding
Set this to an absolute ord, e.g.
station:|slot:/Drivers/NiagaraNetwork/AHU5 or relativized ORD e.g.
slot:AHU5
The ord should point to a numeric point/writable that has a numeric interval extension.
Daily Benchmarks:
These are the values that your site is aiming for. It is a comma delimited string with 7 values, and starts from Sunday.
Default Period:
When the chart loads up, it will display a specified period. Options are (case-sensitive):
today
yesterday
weekToDate
lastWeek

Chart Type:
bar
horizontalBar
doughnut
pie

Refresh Interval:
How often the chart data should refresh. In milliseconds.